Thank you for visiting our online shop.  We are currently closed for our annual winter maintenance until March 10th.  We will reactivate our Square Commerce link at that time.
Shop our selection of jams & jellies using our Square E-Commerce Order Form to easily place an order. Refresh the page to update our product inventory. Shipping options are available or pickup your order at Lark Gifts on Lincoln Square in Gettysburg.  Feel free to email us if you need assistance in placing an order.
Email: wildjuniperfarm@gmail.com
Thank you for supporting our small business and choosing to buy local!
Check out our best selling seasonal favorites listed below!
We are fully stocked with our Fresh Fig Jams and Preserves!  We grow the figs without the use of any pesticides or chemical fertilizers.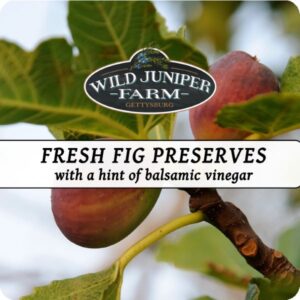 ---